Adam D. Perler, DPM, FACFAS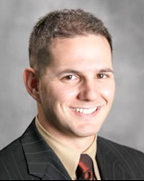 Dr. Adam Perler is an advanced trained podiatric surgeon whose practice focuses primarily on trauma, pediatric foot and ankle problems, sports & dance medicine, peripheral nerve disorders, advanced adult reconstruction, and total ankle joint replacement.
He actively lectures and has authored several articles and textbook chapters. He is a Fellow of the American College of Foot and Ankle Surgeons and is board certified in both Foot and Reconstructive Rearfoot and Ankle Surgery by the American Board of Foot and Ankle Surgery. He is also a Fellow of the American Association of Extremity Nerve Surgeons.
He completed his medical education at Scholl College of Podiatric Medicine at the Rosalind Franklin School of Medicine and completed an advanced surgical residency at Palmetto General Hospital, in Hialeah, Florida.
He then went on to complete his education with a mini-fellowship in Ilizarov (external fixation) Orthopedic Lower Extremity Reconstructive Surgery at the Russian Ilizarov Science Center for Restorative Traumatology and Orthopaedics in Kurgan, Russian Federation under Professor Shetsov. He then traveled to Hannover, Germany where he completed an AO International Orthopedic Trauma Fellowship at the world-renowned Hannover Medical Center, Department of Trauma under the guidance of Professor Christian Krettek.
Dr. Perler is fully engaged in new product innovation and has several innovations that are currently in the design phases, and is holding one patent with two pending on a new total ankle joint replacement system. He has been involved in new product development from the onset of practice and has served as a Key Opinion Leader and consultant for several orthopedic device manufacturers, including Biomet, Synthes, Stryker, MMI, Artelon, Solana Surgical, Tides Medical, and Fx Devices. He served as an adviser for Swarm Interactive and New Balance.
He has practiced with American Health Network Foot & Ankle for twelve years and was instrumental in the initiation of their premier foot and ankle surgical reconstructive fellowship program. He has served on the Board of Directors for the Association of Extremity Nerve Surgeons for several years. He also served on the Board of Directors of the Indiana Ballet Conservatory and was the founder and chairman of both the "Pointe to the Cure" and "Create 4 the Cure" initiatives, which are fundraisers for local childhood cancer research and creative art therapy programs which he has aimed to help grow into national initiatives.
In 2013, he was recognized by the Indiana Podiatric Medical Association with a special award for his dedication and service to community. Dr. Perler has also served as Section Chair of Podiatric Surgery for the St. Vincent Hospital System.
He is married and has two beautiful little girls. He is an avid cyclist and recently competed and placed 8th at the US Masters National held at the Major Taylor Velodrome in Indianapolis. He has also won three State Championships on both the road and track in cycling. He enjoys photography, painting, hiking, and spending time with his family.